Arkinneas, or Ark for short, is a playable character in Deliverance.
Involvement
Ark is a green wolf that first appears through a hidden path. He gives you permission to take the crystal, but comes with you, in case. It's possible not to recruit him by avoiding talking to him and clicking the left dreamcatcher.
He and Aurelia seem to know something unpleasant about Aurelia's mother, though the subject only comes up once, briefly.
He's going to be given a new race in the remake.
Combat
Ark specialises in melee combat, but starts with the healing spell Bolster, and offense spells Venom, Fairy Flame and Stone I, as well as the Transform spells Wasp, Bat and Ooze form.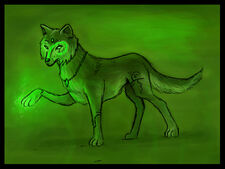 Starting Skills
Gallery
Trivia
Deliverance
Archives
Items and Equipment
Playable Characters
Ad blocker interference detected!
Wikia is a free-to-use site that makes money from advertising. We have a modified experience for viewers using ad blockers

Wikia is not accessible if you've made further modifications. Remove the custom ad blocker rule(s) and the page will load as expected.